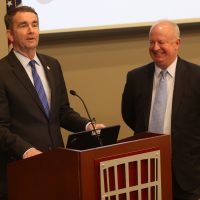 (Danville, Va.) — Gov. Ralph Northam announced Tuesday that 70 new jobs will be coming to Cane Creek Industrial Park in Pittsylvania County as Panaceutics expands its operation.
Panaceutics creates and sells customized nutritional supplement formulas in personalized, easy-to-swallow gel-packs. The pharmaceutical company will invest $5.8 million in the local operation.
Northam traveled to Danville's Institute for Advanced Learning and Research Tuesday to announce Durham, North Carolina-based Panaceutics' plans to invest $5.8 million to establish a research and development and manufacturing facility in the Cane Creek Industrial Park in Pittsylvania County.
Northam's office said in a press release that Virginia successfully competed against North Carolina for the project.
The governor approved a $105,000 grant to assist the county with the project, and the Virginia Tobacco Region Revitalization Commission approved $405,000 in funds.
The company will also be eligible for certain tax exemptions.