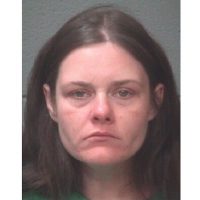 (Danville, Va.) — A Danville woman has been indicted for capital murder in connection with a double homicide.
Last Monday a grand jury issued indictments against 35-year-old Amanda Lynn Willhite for the January 2017 murders of Kelly Fears Wrenn and Ashley Lauren Joy Jones. Willhite is charged with two counts of capital murder, first degree murder, and robbery.
The medical examiner determined that both women died of stab wounds.
Willhite was a resident of the Wrenn Dr. address where the crimes occurred. She fled after the homicides, but was found at a hotel in Jacksonville, North Carolina by Danville Police investigators on January 10, 2017. Willhite was arrested for an unrelated drug charge and remains in custody there, pending her extradition to Virginia.