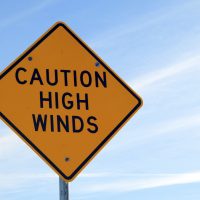 (Danville, Va.) – March came in like a lion in Danville, with gusting winds downing trees, electric poles and power lines in the city and Pittsylvania County.
60 mph wind gusts toppled trees and power poles at Bishop Avenue and West Main Street. Police are directing traffic around the scene.
A large tree fell at Stevens Street and Taylor Lane around 5:30 this morning, taking out a power pole and leaving residents without power.
Danville Power and Light dispatched extra crews after midnight to handle the calls.
In Pittsylvania County, a tree toppled onto a house on West Sunrise in the Whitmell community. A brush fire caused by downed power lines was also reported at Beverly Road and the Whitmell School Road about 5:45 this morning. There were no reports of injuries.
There are so many downed trees in Halifax County that schools and county offices are closed today.
The National Weather Service has issued a high wind warning for the Danville area through tomorrow morning. Gusts of up to 55 mph are expected throughout the day, with 40 mph gusts forecast for Friday night.