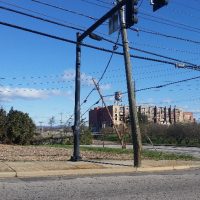 •                     Utilities crews have worked throughout the day to restore service. Customers continue to report outages, which are primarily due to high winds and fallen trees. At this time, more than 1,200 customers are without power. These outages are scattered throughout the service territory.
•                     Currently, there is a major outage affecting a portion of the downtown area. A total of 857 customers are affected by this outage, which occurred at 2:46 p.m. These customers are served by a feeder circuit from the Bridge Street substation. The streets affected include portions of Main, Patton, Loyal, Wilson, Monument, Jefferson, Green, Pine, Chestnut, Gove, Ridge, Poplar, Upper, Floyd and High. To restore service, the power load for these customers will be switched to the Brantly substation. The switch will take place within the next hour.
•                     Earlier today, major outages occurred in the airport area and the Cascade area. The outage in the airport area affected 510 customers and was related to a vehicle accident. The outage in the Cascade area affected 645 customers and was related to high winds and a downed tree. Service in these areas has been restored.
•                     Utility crews will work through the night to restore service; however, some customers will be without power overnight.
•                     During an extended outage, utility customers should consider moving yourself and your family — especially those with special needs — to an alternate location.
•                     Utility customers are encouraged to check on others who may benefit from your assistance.
•                     Residents and visitors should consider all downed power lines and anything touching them energized and DANGEROUS! Do not get near them and report the problem by calling the 24-hour utilities emergency number – (434) 773-8300.
•                     Public Works crews responded throughout the day to reports of fallen trees blocking streets. The streets affected were Westhaven, Hartford, Wendin, Boswell, Melrose, and Franklin Turnpike.
•                     In addition, crews responded to calls of trees fallen, but not blocking streets. The locations were off Airport, Apollo, Lowell, Creekside, Woodview, Melbourn, Aspen and Harrison streets.
•                     Fallen trees have been cleared in 10 locations. Six locations are in the process of being cleared. Most of the calls came in between 9 a.m. and 11 a.m.
•                     The Parks and Recreation Department reports three fallen trees in Ballou Park, one of which has affected traffic flow in the area of shelter No. 6. Crews today worked to mark and isolate these areas, but cleanup will take additional time.
•                     At this time, Parks and Recreation has received no reports of problems on the Riverwalk Trail.
•                     Due to the high winds and adverse trail conditions, the Sledge Trail Run scheduled for Saturday, March 3, at Anglers Park has been moved to Saturday, March 10. Any runner not able to participate in the postponed race is eligible for a refund or can transfer registration to another Parks and Recreation race including the Patriot Challenge Trail Run, Glow with the Flow 5K, Midnight Marathon or next year's Sledge. For more information or to transfer registration, call 434-799-5150. Due to the postponed start date, registration is open for anyone interested in participating on March 10.
•                     Danville Public Library lost power when the problem developed with the feeder circuit from the Bridge Street substation. The library closed early because service could not be restored before the regularly scheduled time of closing on Fridays, which is 5 p.m.