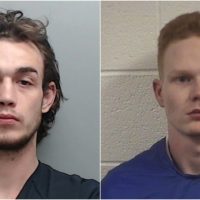 (Henry County, Va.) – Two men charged with a weekend murder in Axton have been arrested after one was tracked all the way to Texas.
The Henry County Sheriff's Office said Jake Lewis, 23, was apprehended Tuesday night in San Marcos and awaits extradition to Virginia.
The San Marcos Police Department's SWAT team arrested Lewis without incident. He was armed with a handgun.
Virginia police learned that Lewis had fled to Texas and contacted authorities in San Marcos.
The Reidsville resident is charged with first-degree murder and firearms counts in Sunday's shooting death of 37-year-old Eric Adams, who was found dead of gunshot wounds in his Axton home.
A second suspect, 18-year-old Dylan Alan Day of Reidsville, is also charged in Adams' murder.
Day was arrested by Rockingham County Sheriff's deputies in North Carolina on Wednesday and is currently being held awaiting extradition to Henry County.