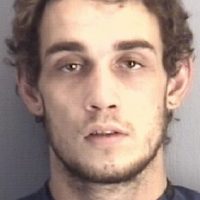 (Henry County, Va.) — The Henry County Sheriff's Office has identified the man they say murdered Axton resident Eric Adams.
23-year-old Jake Andrew Lewis of Reidsville is currently wanted for first-degree murder and use of a firearm in the commission of a murder.
Lewis is a white male, 6-foot-2, 175 pounds, with brown eyes and brown hair.
The sheriff's office believes he is armed with a handgun.
Deputies, along with the Henry County Department of Public Safety, and the Axton Life Saving Crew were called to Keen Drive in Axton around 3:30 p.m. on Sunday, after Adams was found dead inside his home.
The Henry County Sheriff's Office received help from the Reidsville Police Department in identifying Lewis and say they believe the gunman and Adams knew each other.
Anyone with information on Lewis' whereabouts is asked to call 911 or the Henry County Sheriff's Department.