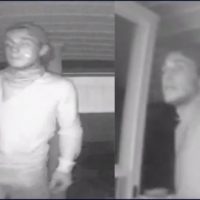 (Axton, Va.) – An Axton man was found dead of gunshot wounds in his home Sunday and investigators are hoping the public can help identify man seen in surveillance footage recovered at the scene.
Sheriff's deputies, along with the Henry County Department of Public Safety and Axton Life Saving Crew were called to Keen Drive in Axton around 3:30 p.m. Sunday, after 37-year-old Eric Lasha Adams was found dead inside his home.
The sheriff's office says multiple individuals were present during the time of the homicide. Investigators do not believe there were any illegal activities involved and that Adams may have known his killer.
An autopsy will be performed at the Office of the Chief Medical Examiner for the Western District of Virginia.
Anyone with information on murder the individuals seen in the photos is asked to call
the Henry County Sheriff's Office.