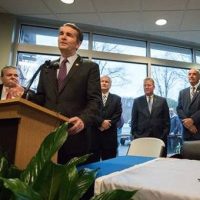 (Stuart, Va.) — Governor Ralph Northam on Friday signed his first piece of legislation as governor, a bill which extends the license for Pioneer Community Hospital of Patrick County to December 31, 2018 in order to facilitate efforts to find a new owner to reopen the hospital and offer local residents better access to critical health services.
After filing for bankruptcy protection in late March, the hospital in Stuart closed last fall. The 25-bed hospital is the only one in Patrick County.
Gov. Northam  was joined by Senator Bill Stanley, Delegate Charles Poindexter, Senator Jennifer McClellan, and Senator Lynwood Lewis.