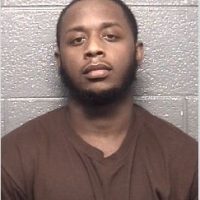 (Danville, Va.) — The U.S. Marshals Fugitive Task Force has arrested Tredarius Jameriquan Keene in Bluefield, WV.
Keene is wanted in connection to the homicide of Antwan Duval Tucker Jr. Keene is currently charged with possession of a firearm by a convicted felon. He was arrested February 1 and has been extradited back to Virginia, where he awaits trial.
Tucker died of a gunshot wound to the head. Police received a call of shots fired on Ross Street just before 11 p.m. Friday, Dec. 22 and found Tucker in the emergency room of SOVAH Heath Danville. He was transferred to Roanoke Carillion Hospital, where he died the following morning.
K'Darius Taequan West is charged with three counts of attempted malicious wounding in the homicide. He was arrested on Jan 16, 2018 in Greensboro, NC. He has been extradited back to Virginia and is awaiting trial.
Dashaun Lamar Trent remains at large and is wanted for attempted murder and use of a firearm in the commission of a felony. Trent should be considered armed and dangerous.