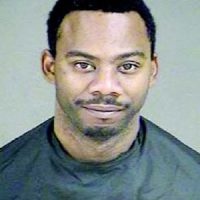 (Pittsylvania County, Va.) – A man sought for months in the brutal beating of his estranged wife was arrested Sunday outside a South Boston motel.
Antone Lemont Hamlett was apprehended outside the Hilltop Motel on the Bill Tuck Highway. He was arrested by federal marshals on outstanding warrants from Halifax County and is charged with malicious wounding and felonious assault.
Hamlett was the focus of an intense manhunt in Pittsylvania County in mid-November.
Investigators say Hamlett attacked his estranged wife at her home in Halifax County, then drove her to the Gretna area of Pittsylvania County where he abandoned the vehicle by the side of the road. The woman was helped by a motorist who spotted her wandering along U.S. 29.
A massive search of the surrounding area turned up nothing until this past weekend. The Marshal's Service Regional Task Force spotted Hamlett leaving his motel room in South Boston at around 10:15 Sunday morning. He was arrested a short distance away and is being held in the Blue Ridge Regional Jail under no bond.