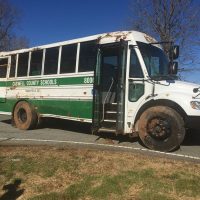 (Orange County, N.C.) – 13 Bartlett Yancey High School students and adults accompanying them were injured Friday in a bus crash in Orange County.
Hospital officials say there were multiple injuries ranging from cuts and bruises to scrapes.
The bus was involved in a rollover accident as the driver headed back to Bartlett Yancey High School in Caswell County after a field trip.
Emergency officials responded to the crash around 12:35 p.m. in the 4600 block of Highland Farm Road, near the intersection of Efland-Cedar Grove Road, according to the Orange County Sheriff.
The bus left the road, over-corrected and spun around. No other vehicles were involved.
There were nine students and four adults on the bus, including the driver. All were taken to the hospital as a precaution but none of the injuries is thought to be serious. (ABC11)