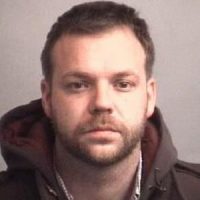 (Danville, Va.) – The man police say robbed the Danville Dairy Queen Tuesday night is wanted for a string of similar robberies in North Carolina this week.
Richard Macon Dunn, 32, of Lexington, North Carolina, is suspected of robbing a 7-Eleven in his hometown on Wednesday.
Lexington Police say Dunn is wanted for armed robbery with a dangerous weapon.
He is also charged with committing similar crimes in Danville, Virginia, Salisbury and Thomasville.
Officers responded to an armed robbery at the 7-Eleven on Cotton Grove Road in Lexington at around 5:17 Wednesday morning. The clerk told officers that a white male came into the store wearing khaki pants and a dark-colored coat. The robber threatened the clerk with a knife while demanding money. Dunn fled in a black 2014 Ford Fusion with NC tags ELY-1280.
The Dairy Queen on Riverside Drive in Danville was robbed at knifepoint around 8:40 Tuesday night and surveillance cameras caught Dunn on film. Police say he also robbed a Family Dollar store in Salisbury on Monday.
Anyone with information on Dunn's whereabouts is asked to call 911, Danville Crime Stoppers at (434) 793-0000.