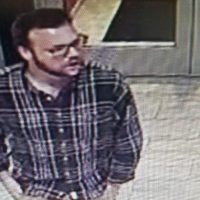 (Danville, Va.) – Danville Police are looking for a North Carolina man wanted in connection with Tuesday night's robbery of the Dairy Queen on Riverside Drive.
32-year-old Richard Macon Dunn of Lexington, N.C. is charged with robbery. An employee said Dunn entered the business around 8:40 Tuesday night, brandished a knife and demanded money. The robber fled on foot after getting an undisclosed amount of cash and no one was injured.
Dunn was last seen operating a black 2014 Ford Fusion bearing NC tags ELY-2180. Dunn is a white male with a beard and moustache, wearing glasses, 6'3″, weighing approximately 215 lbs.
Dunn is also wanted by the Salisbury Police Department for a similar offense in that city.
Anyone with information on Dunn's whereabouts is encouraged to call 911, Danville Crime Stoppers at (434) 793-0000.
See Salisbury Police Department Facebook link below: