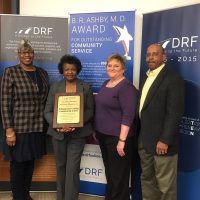 (Danville, Va.) — Danville Regional Foundation has chosen Pittsylvania County Community Action as the recipient of the 2018 B.R. Ashby, M.D. Award for Outstanding Community Service.
The $50,000 general operating grant recognizes outstanding community service in the region by a non-profit organization based on success in helping needy families.
Danville Regional Foundation President Kaul Stauber notes that since its founding in 1965, PCCA has helped thousands of neighbors in the community. In fiscal year 2016/2017 alone, the agency served 7,476 clients across nine localities, including Danville, Martinsville, and Pittsylvania, Halifax and Franklin Counties.
Past recipients include Caswell Family Medical Center, the Danville Cancer Association and God's Storehouse.