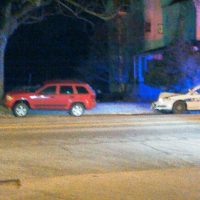 (Danville, Va.) – A Danville Police officer fell asleep at the wheel of his police cruiser early Monday morning and crashed into the rear of a Jeep that was parked along Main Street.
The accident happened about 3:30 a.m. in front of 833 Main Street, across from the old YMCA.
Officer J.H. Newby was traveling north on Main Street when he fell asleep and struck a parked, unoccupied 2005 Jeep. He was treated at the hospital for minor injuries and returned to work later in the day. The officer was alone at the time of the accident.
Regional One responded to the wreck and transported the officer to the emergency room.