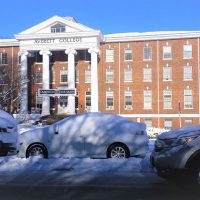 (Danville, Va.) — Southerners are awaiting an imminent thaw that would end days of icy roads, snow and numbing cold from a fierce winter storm that blasted our normally mild corner of the country. For a third night, stare troopers warned of ice on roads as the snow that melted during the day Thursday refroze overnight. A major warm-up follows Friday with highs this weekend expected to reach the upper 50s in Danville.
At least 15 people have died from the midweek snow storm that battered the South from Texas to Virginia. There has been one death in Virginia and another in North Carolina.
Danville received almost nine inches of snow in Wednesday's storm, while South Boston recorded 10 inches in a storm that virtually shut down Halifax County for a day.