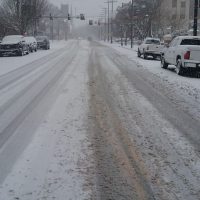 (Danville, Va.) — The snow may have stopped but the black ice remains on the streets that have been plowed.
Wednesday's storm dumped about 9 inches in Danville and Pittsylvania County and up to 12 inches of snow near Durham.
A winter weather advisory is in effect for most of the Carolinas this morning because of hazardous travel conditions, which aren't expected to improve before midday, when the temperature is finally expected to rise above freezing.
Duke Energy reported about 10,000 customers without service in the Carolinas. The biggest problem was near Chapel Hill.
Only scattered outages were reported in the Danville area. Crews responded to Owl Road off the Mountain Hill Road yesterday afternoon, where about 80 customers lost power.
The snow and ice prompted South Carolina Gov. Henry McMaster to postpone his State of the State address for one week. South Carolina lawmakers also took the rest of the week off.