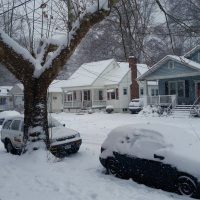 (Danville, Va.) — The National Weather Service has extended the winter storm warning for Danville until 9 p.m. Heavy snowfall continues. Snow accumulations of three to six inches are expected.
The Danville Police Department has received reports of 19 motor vehicle crashes, one motor vehicle crash with injuries, one motor vehicle crash with property damage and 12 disabled vehicles. Driving conditions will deteriorate tonight as temperatures fall to the mid-teens and aren't expected to rise above freezing until Thursday afternoon.
Public Works snowplow crews began clearing major thoroughfares at 9 a.m. Public Works Director Rick Drazenovich warns that the combination of wet snow and overnight temperatures will make it difficult for the plows to clear streets to bare pavement. "This is not going to be an easy storm for us," Drazenovich said. "The snow will become packed and will stay on the street surface, especially on streets that were not pretreated."
There are no reported power outages. The city received one report this morning of a house without power in the Whispering Pines community. The cause was a blown transformer fuse, which has been replaced.