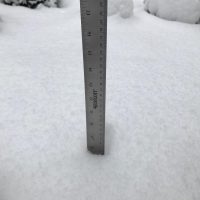 (Danville, Va.) — Danville remains under a winter storm warning until 9 p.m. Official reports measure 6.9 inches of snow in Danville as of 4 p.m. Unofficial reports measure as much as 9 inches of snow as of 4 p.m. The National Weather Service forecast calls for heavy snow ending this evening. Temperatures currently are 27 degrees, and they are expected to fall overnight to around 15 degrees.
The Danville Police Department continues to receive reports of motor vehicle accidents and disabled vehicles. As of 4:30 p.m., the department has received reports today of 22 motor vehicle crashes, one motor vehicle crash with injuries, one motor vehicle crash with property damage and 24 disabled vehicles.
Public Works snowplow crews continue clearing major thoroughfares. As temperatures fall, clearing the streets to bare pavement is expected to become more difficult.
When the snow event has ended and the main thoroughfares are plowed, crews then will move to streets that connect to primary routes and bus routes. Crews are not expected to reach residential neighborhoods until after daybreak on Thursday.
Danville Transit on Thursday will operate only demand response service (Reserve A Ride, Handivan and Seniors). Fixed route bus service has been canceled for Thursday.
Electric customers whose residence or business is without power should call Danville Utilities at (434) 773-8300 to report the outage. We are receiving scattered outage reports, including 80 customers without power on Owl Road, which is located off of Mountain Hill Road, east of Danville. Road conditions overnight will impact restoration efforts.
Danville Regional Airport remains closed due to snow accumulation on runways.
All City of Danville buildings will open to the public Thursday on a one-hour delay.
Parks and Recreation will extend hours on Thursday for open gym at the City Auditorium. The extended hours will be noon to 6:30 p.m.