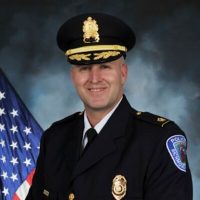 (Danville, Va.) — Danville City Manager Ken Larking announced today that Scott C. Booth has been selected as chief of police. Booth has more than 21 years of law enforcement experience, including 19 years with the Richmond Police Department, where he rose through the ranks to major.
He currently serves as deputy federal security director for the U.S. Department of Homeland Security/Transportation Security Administration in Charlotte, N.C. Prior to taking the position, he served as police chief of the Metropolitan Washington Airports Authority (MWAA).
Larking indicated that it was not only Booth's experience, but also his passion for community policing that made him the best person for Danville. "I was particularly impressed by the importance Scott puts in building strong relationships and trust in the community."
Booth will assume his duties on Feb. 5. He will succeed Philip Broadfoot, who served as police chief in Danville for 14 years before retiring effective Jan. 1.
Booth was chosen from a field of 49 applicants through a national recruitment.
Scott C. Booth served as the Richmond Police Major in charge of the Office of the Professional Responsibility-Internal Affairs Division. Booth served previously as the Second Precinct commander in the Richmond Police Department. He joined the RPD in 1996 after a six-year stint in the Army, where he was a military police squad leader. His first assignment with RPD was as an undercover officer for Operation Night Life, a joint operation with the U.S. Attorney's Office and Richmond Narcotics that targeted midlevel drug traffickers operating out of night clubs in the Richmond metro area.
After 14 months undercover, Booth returned to conventional police work and held a variety of assignments in operations and training as he was promoted through the ranks.
While assigned to the academy, he supervised recruit training and the field training program for the department and was tasked with integrating the concept of sector policing into both areas. Booth was also a member of the SWAT team for several years, where he served as the primary TASER instructor, chemical agent/less lethal instructor, and firearms instructor for the department.
In 2007 he was promoted to lieutenant and assigned to a sector of Richmond that had consistently experienced problems. Within a year, the area achieved a 20% reduction in overall major crime and was recognized as the Richmond Police Department's Sector of the Year in 2008.
Booth holds a Bachelor's degree in Management and Leadership Studies from the University of Richmond, a Post-Baccalaureate Graduate Certificate in Criminal Justice, and his Master of Science degree in Criminal Justice from VCU.