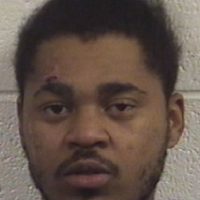 (Rockingham County, N.C.) – Rockingham County Sheriff's investigators have charged a Reidsville man with firing shots into an occupied home.
No one was injured in the incident, which happened early Friday morning on Peony Lane in Reidsville.
25-year-old Victor McCollum is charged with four counts of feloniously discharging a weapon into an occupied dwelling. McCollumn is also charged with violating his pre-trial release.
The incident was reported about 3 a.m. Friday. Adrian Agundiz, 26, was awakened by the sound of gunshots. He roused his wife and two children before running outside to investigate.
Agundiz spotted a man getting into a car with two others individuals.
McCollum was placed in the Rockingham County Jail under a $150,000 secured bond and is scheduled to appear in court on Jan. 29.