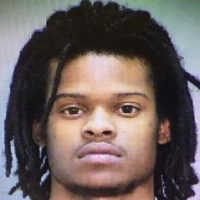 (Martinsville, Va.) – Martinsville Police are seeking a suspect following a Saturday morning homicide.
24-year-old Terrell Kiwon Martin of Martinsville is charged with first-degree murder, use of a firearm in commission of a felony, and reckless handling of a firearm.
He is being sought in the shooting death of 34-year-old Tyrone A. Herndon.
Police responded to the Valero station on Brookdale Road just after midnight after receiving reports of a fight in process. Herndon was found suffering from a gunshot wound. He was taken to SOVAH Hospital in Martinsville where he was pronounced dead.
Martin is considered armed and dangerous.