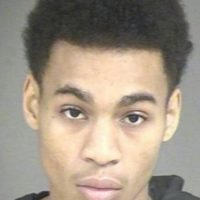 (South Boston, Va.) – A South Boston teenager has been charged in connection with a weekend shooting.
WSET-13 reports that 18-year-old Shyquan Isiah Jacobs is being held in the Halifax Adult detention center on charges of possession of a concealed weapon and obstruction of justice.
Investigators say Jacobs was arrested after a brief chase Saturday afternoon. They responded about 2 p.m. to a report of shots fired at the country Green Apartments on East Bishop Drive. South Boston police found a 25-year-old man suffering from gunshot wounds. He was taken to a local hospital and is expected to survive.
A description of the shooter was given and Virginia State Police and sheriff's deputies arrested Jacobs, who has yet to be charged in the shooting.
An earlier shooting incident happened before dawn Saturday on Glendale Drive in South Boston. No one was injured, but several homes and cars were struck by gunfire. Officers searched a home and recovered cash and more than five pounds of high grade marijuana.
.