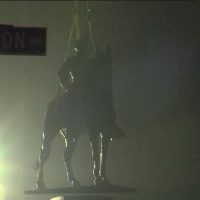 (Memphis, Tennessee) — Crews worked through the night Wednesday to remove two Confederate statues from parks in Memphis, Tennessee, after city officials sold the land to a nonprofit entity for $1,000 each.
Crowds gathered outside Health Sciences Park as cranes lifted the equestrian statue of Civil War general Nathan Bedford Forrest from its pedestal. About 1.5 miles away, crews removed a smaller statue of CSA President Jefferson Davis from a Memphis Park.
Memphis Mayor Jim Strickland declared that history was being made in Memphis and said the statues were vestiges of attitudes that prevailed decades ago.