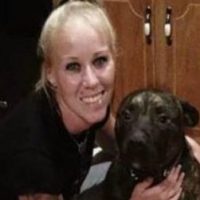 (Goochland, Va.) — Police say a Glen Allen, Virginia, woman was mauled to death by her two pit bulls.
Bethany Lynn Stephens' body was found by Goochland County deputies around 8:18 p.m. Thursday in a wooded area. Goodland County Sheriff James Agnew says her body was being guarded by two very large pit bulls.
Sheriff's deputies arrived and spent 60 to 90 minutes attempting to catch the dogs — which the sheriff described as pit bulls.
Bethany's body was taken to the Medical Examiner's Office.
The dogs are with Goochland Animal Control and the sheriff's office will pursue euthanization.