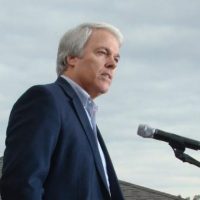 (Danville, Va.) — Don Merricks has been named as the new president and CEO of Danville-based Virginia Bank & Trust.
The local businessman is currently the owner and president of J.W. Squire, but plans to retire from that position at the end of the year and start his new duties at Virginia Bank & Trust on January 2. Merricks in no stranger to the banking industry and started his career with Schoolfield Bank and Trust and later worked for First Virginia Bank.
Merricks was elected to Virginia's House of Delegates in 2008 and served in the General Assembly for six years.
He currently serves as chairman of the board at the Institute for Advanced Learning and Research and is also sits on the board of directors at Piedmont Broadcasting Corporation.