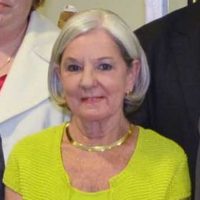 (Danville, Va.) – A woman who has spent a lifetime helping others is the recipient of this year's Kiwanis Citizenship award, the most prestigious recognition for civic contributions in Danville.
Libby Spainhour is the 85th recipient of the award, which was presented Thursday night by club president Stetson Franklin.
Spainhour was recognized for her twenty years of volunteer work at the local hospital and for her contributions to the arts and education.
Spainhour was appointed to the Danville School Board in 1988 and served as its chairman for five years until 2000. She also served on and chaired the board of directors at Danville Community College and presently serves as vice chair of the DCC Educational Foundation. She has also worked actively with the Danville Museum of Fine Arts and History and the Danville Science Center, and is the past president of the Children's Theatre of Danville.