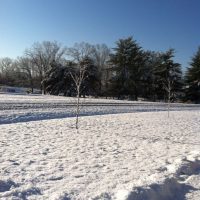 (Danville, Va.) – Danville could see one-to-three inches of snow – perhaps more – as a low pressure system passing to the southeast blankets the region.
Blacksburg meteorologist Nik Fillo says "the heaviest accumulations will fall tonight, where we can expect a storm total amount of up to two inches in the Danville area by tomorrow morning."
Fillo says the majority of the snow will fall tonight, with snowfall ending by late Saturday morning or early in the afternoon.
In preparation for the storm, the Danville Public Works Department has started pre-treating main thoroughfares. A mix of snow and rain is expected today before changing to all snow tonight and Saturday.
Snow accumulation on road surfaces is expected to begin Friday evening. A total snow accumulation of one to three inches is expected through Saturday afternoon, with heavier accumulations south of Danville and in higher elevations to the west of the city.
The National Weather Service says a shift in the low pressure system's track could bring a higher accumulation of snow to the Danville area.
Residents and visitors can learn more about snow removal operations, what to do in the event of power outages, and winter safety tips by visiting the City's weather page: http://danvilleva.gov/1907/Weather-Update