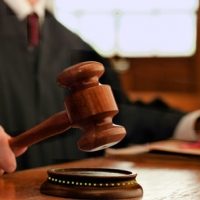 (Chatham, Va.) – A 17-year-old charged with arson and murder in the death of his mother is on trial in Pittsylvania County Circuit Court.
The defense will begin presenting its case Tuesday as the trial for Jacob Gene Tharpe enters its second day.
The teenager is charged with arson and first-degree murder in the Dec. 21, 2016 death of his mother, 62-year-old Bernadette Marie Nesbitt. Her body was pulled from her burning home in the Dry Fork community. An autopsy determined that Nesbitt suffered more than 70 stab wounds.
Volunteer firefighters responded and pulled Nesbitt's body from the burning home. They found a pile of clothing burning nearby and an accelerant on the porch.
Two days have been set aside for Tharpe's jury trial in Pittsylvania County Circuit Court.
Tharpe, who was 16 at the time, maintains his innocence and claims his mother was murdered by an intruder.