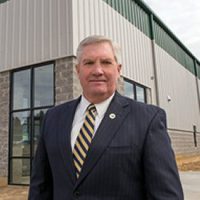 (Camden, N.C.) – Pittsylvania County former economic development director has been hired as the manager in Camden County, N.C.
Ken Bowman, joined by his wife Brenda, attended Monday's Board of Commissioners meeting and was introduced to the media. He plans to work part-time while relocating from his home in Danville. Bowman will begin his new duties as county manager in Camden County on Monday, Dec. 18.
Bowman, 67, is the current economic development director in Warren County, where he assisted in construction of a 78,000-square-foot warehouse for a large industry.
He also played a key role in the sale of a closed, 14-acre textile mill that is back on the county's tax roll.
Bowman retired from the U.S. Army as a lieutenant colonel and served four years on the York County Board of Supervisors. He holds a master's degree in public administration from Troy University.