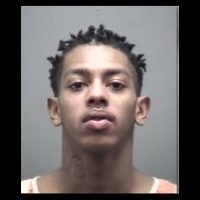 (Burlington, N.C.) — A Burlington teen was arrested in Caswell County Monday and charged in the Nov. 7 shooting death of 17-year-old Travonte Contrell Compton.
Burlington Police say Najee Camell Moore, 17, is charged with first-degree murder and was also served with a previous warrant for armed robbery.
Crews responded shortly after 5 p.m. Nov. 7 to the incident on Vance Streetin Burlington. Arriving officers found Compton inside a vehicle and suffering from a gunshot wound. He was pronounced dead at the scene.
Moore was taken into custody Monday in Caswell County and placed in the Alamance County Jail without bond. He is set to make a court appearance Tuesday.
Three others teens have also been charged in connection with the homicide, including two 16-year-old girls and 18-year-old Daquan Amare Jones, who was arrested Nov. 13 and charged with accessory after the fact and with harboring a fugitive.