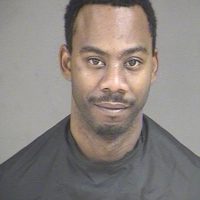 (Pittsylvania County, Va.)  — Sheriff's deputies are investigating the possible sighting of Antone Lemont Hamlett, the man sought for a stabbing in Halifax County earlier this week.
On Wednesday, a man matching Hamlett's description was spotted in the northeastern part of Pittsylvania County. Units from Pittsylvania and Halifax searched the area, along with state troopers, Danville police officers and members of the Virginia Department of Game and Inland Fisheries.
The sheriff's office is asking residents in this area to secure their homes and outbuildings and is urging hunters not to leave any firearms unattended in their vehicles.
Hamlett is wanted for malicious wounding in Halifax County. Police say he abandoned his vehicle in Gretna around noon Tuesday after stabbing a woman and driving her to the location. Neighbors said the woman was bleeding from the waist down and jumped a fence by Highway 29. The victim was walking along the road when deputies located her.
A $1,000 reward has been offered for information leading to Hamlett's arrest.