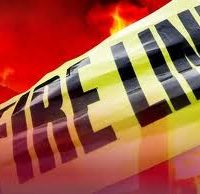 (Danville, Va.) – Danville firefighters made quick work of a pre-dawn house fire Thursday.
Engines and support personnel were sent to a home on Myrtle Avenue in north Danville about 3:20 a.m.
They found a fire in the kitchen and had the blaze under control in minutes. Crews checked for extension and then vented smoke from the home.
One occupant was checked out for smoke inhalation and is being assisted by the Red Cross.
Another fire call was received about 4:15 from a home on White Street. The first units on scene reported that flames were visible from the house. Trucks were dispatched to a two alarm fire at a house on White Street, where units reported heavy smoke and flames on arrival. No one was in the house and there were no injuries.