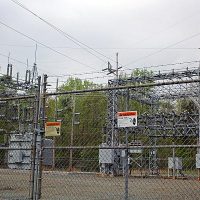 (Reidsville, N.C.) — Rockingham County Sheriff's investigators are seeking information following a rash of break-ins and damage to Duke Energy Substations across the county.
Earlier this month and again on Tuesday, thieves entered the Duke Energy Substation on N. Oakland Ave. in Eden and stole copper bus bars and bushing worth $100,000. It will cost another $120,000 to repair the damaged equipment.
A similar break-in was reported at a Duke Energy Substation in Reidsville, where a meter box was damaged but nothing was taken. Four other substations in Eden and Stoneville have been entered in the past month.
Surveillance footage shows a tan GMC truck driven by a white male. He is seen breaking into one substation, accompanied by a driver and another white male with facial hair. Anyone with information is asked to contact the Rockingham County Sheriff's Office.