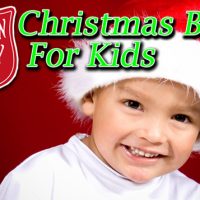 We're proud to continue our relationship with the Danville Salvation Army Christmas Bucks for Kids Campaign.
Who you are helping when you donate:
50 Seniors with a Christmas Wish
568 Angels
244 Families
462 Food Boxes (Seniors, Angel Families and families with no children included)
There are several ways you can help!
Friday, November 17th:
Riverside Drive Hardee's Broadcast – join us from 6am – 12pm to donate! For every dollar you donate, you receive a registration blank that you can fill out and place in one of our prize boxes to win!
Friday, December 1st:
VIRginia International Raceway – it's a Christmas tradition – Holiday Laps! Join us at the track from 8:30am – 4pm. Donate $25 cash or $25 worth of canned goods or new toys and VIR will let you do a lap around this historic track!
Friday, December 15th:
Danville WalMart Subway Broadcast – join our elves (Hutch, Carol, Alex and Sherri) as they broadcast live from Subway inside of Danville's WalMart from 3pm – 7pm. We'll have all of our prize boxes set up for you to donate to register. Plus, we may have some special guests stop by and make some appearances and take pictures with the kids!
Donation Raffle Items (available to register for during our on-site broadcasts):
TMZ Swag from #HollywoodDoug
Food for your Super Bowl Party from Blue Line Catering (BBQ, slaw, baked beans, mac & cheese for 15-20 people)
$100 Sam's Club gift card
4 tickets for Star Wars: The Last Jedi at Danville Stadium Cinemas
4 tickets to a movie of your choice from Danville Stadium Cinemas
Eden Pure Inferred Heater from Builder's Discount Center
$50 Texas Steakhouse gift card
4 breakfast buffets from Golden Corral (Danville location)
$50 gift card to The 616 Farm to Table Restaurant
Family membership to the Danville Science Center for 2018
Crystal Topaz Pendant from Eden Jewelry ($100 value)
Ambrosi Biscotti gift basket ($70 value)
Paint and Sip Experience for 2 from Vanessa Sims O'Neal's Paint and Sip ($70 value)
Two tickets for every 2018 regular season race at South Boston Speedway
Pizza for a year from Dell'Annos
4 night stay at any Red Roof Inn in the country
Giant Coca Cola plush polar bear and case of Coca Cola 2 liters
Angel Tree Locations:
Walmart, Mount Cross Road
San Marco, Holt Garrison Pkwy
Okelly's, Piney Forest Road
River View Dental, Riverside Drive
These trees are filled with cards that contain information about a certain child or senior with items they'd enjoy to receive for Christmas.
Schools who are hosting canned food drives:

Chatham High
Chatham Middle
Dan River High
Southside
Stony Mills
Brosville
Tunstall High
Tunstall Middle
Twins Spring
Park Avenue
Schoolfield
Union Hall
Don't have the funds to donate? No problem. Your TIME is just as valuable. Sign up to assist ringing the bells at the kettles this holiday season – click here.
Don't have cash on you? Did you know you can donate online? Click here to find out how!