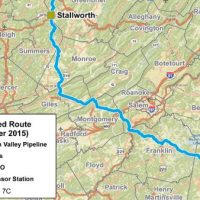 (Roanoke, Va.) — Mountain Valley Pipeline has filed a federal lawsuit against hundreds of landowners in Virginia to initiate acquiring easements through eminent domain across private property, and to seek a court order granting immediate access to the properties.
Mountain Valley's 196-page lawsuit filed in Roanoke last week states the project received approval Oct. 13 from the Federal Energy Regulatory Commission. FERC's order grants Mountain Valley Pipeline LLC the authority via the federal Natural Gas Act to condemn private property to obtain easements for the pipeline and related access roads and workspaces.
The lawsuit says "condemnation is necessary" because MVP has been unable to negotiate agreements with the landowners." Many property owners opposed to the pipeline have refused to even enter such negotiations.
Mountain Valley must still obtain other permits and authorizations, from both state and federal agencies, before launching construction.
The 303-mile, $3.7 billion, 42-inch pipeline would transport natural gas from Wetzel County, W. Va., and end at the Transco pipeline near Chatham, Va.