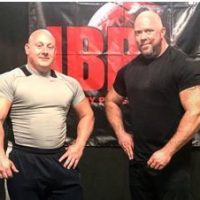 (North Wilkesboro, N.C.) — Major Matthew Wyatt and Sgt Shawn James, both with the Danville Sheriff's Office, competed in the IBP Nationals on October 22 in North Wilkesboro, N.C., and both brought home first-place titles in two different classes.
Trophies were awarded in The Masters category, ages 40-45, and in the Police, Fire and Rescue competition, which has no age limitation.
This is Wyatt's 4th national title and James' 3rd national title. Both competed in the so-called "Full Power" category, which includes squats, deadlifts and bench pressing.
James also was presented with an "Outstanding Lifter" award for the amount of weight lifted in his weight class.