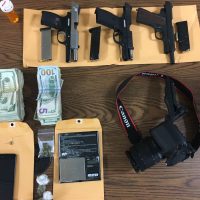 (Danville, Va.) — A Halloween raid in Danville led to the seizure of drugs, cash and firearms.
Danville Police served a search warrant in the 100 block of Ficklen Avenue Tuesday and seized a cache of contraband. Three firearms were confiscated, including one that had been stolen from Caswell County, N. C. Officers also recovered cocaine and marijuana that had been packaged for sale, along with $1,900 cash and scales used to measure and cut drugs.
Multiple individuals face indictment for narcotics distribution and firearms-related charges, which will be filed  following a laboratory analysis of the drugs.