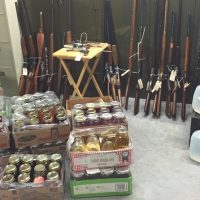 (Richmond, Va.) – A Tennessee man is in custody, charged with running a major moonshining operation that funneled the illegal spirits into Virginia.
The Virginia Department of Alcoholic Beverage Control and the Tennessee Alcoholic Beverage Commission expect to file multiple indictments in the two-state operation.
At the conclusion of a four-month undercover investigation, ABC officials got a warrant to search the home of Winston Delano Terry, 73, of Jonesville.
Last week, special agents and Virginia State Police raided the house and seized 67 gallons of moonshine, 22 firearms, and a vehicle.
ABC Special Agent in Charge Steve Baffuto says undercover operatives made numerous buys before shutting down the operation.
Criminal charges are expected.