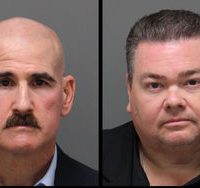 (Rockingham County, N.C.) – A former North Carolina prosecutor faces more problems.
U.S. Middle District Judge William Osteen has suspended former Rockingham County District Attorney Craig Blitzer's law license to practice in federal court.
The action follows Blitzer's criminal conviction this summer. In July, Blitzer pleaded guilty to failure to discharge the duties of his office in Wake County Superior Court.
Blitzer and former Person/Caswell County District Attorney Wallace Bradsher are accused of hiring each other's wives and paying Blitzer's wife, Cindy, $48,000 for 15 months of work she didn't perform while instead attending nursing school full-time.
Blitzer awaits sentencing and has agreed to testify in upcoming criminal and civil cases, including the pending case against Bradsher.