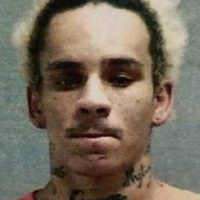 (Martinsville, Va.)  — Authorities are continuing their search for an inmate who broke and ran from a Martinsville work detail last month.
They say Dekey Trevor Penn be in the company of his girlfriend, 32-year-old Latoya Turner.
Penn, 33, was a trustee when jumped from a garbage truck in the Fayette Street area of Martinsville on the morning of September 13.
Area law enforcement agencies and the Marshals Fugitive Task Force have been unable to locate Penn and are asking the public for help.
Penn stands 5-foot-6 and weighs 165 pounds. He changes hair style frequently and was last seen with his hair partially dyed blonde.
Police believe Penn may be accompanied by Turner, who is a former Martinsville resident.