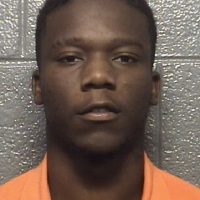 (Danville, Va.) — Two Danville teens have been charged in connection with last week's fatal shooting of 23-year-old Louis Isaiah "BG" Glenn.
Danville Police on Tuesday charged 18-year-old Stevie Jermaine Johnson, Jr. with conspiracy to commit murder, and discharging a firearm in public causing bodily injury. Johnson is being held in the Danville City Jail.
A 14-year-old was also charged with possession of a firearm as a juvenile, attempted malicious wounding, and criminal street gang participation. He is being held in the W.W. Moore Detention home. His name is being withheld because of his age.
Danville Police were called to the 400 block of Moffett Street about 9:30 last Thursday night in reference to a shooting. They found Glenn lying in the street, dead of a gunshot wound to the upper body.
The investigation is active and ongoing and anyone with information is asked to contact Danville Crime Stoppers.