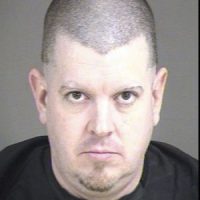 (Halifax, Va.) – A Halifax man has been sentenced to 63 years in prison following his conviction on nine child pornography charges.
But Jessie Randall Coates had to be found before the sentence could be meted out.
The 42-year-old disappeared during a lunch break at his trial in Halifax County Circuit Court Tuesday afternoon. Sheriff's investigators learned that Coates had fled to Indiana, where he was staying with family members.
The trial continued in his absence, and the jury convicted Coates on nine felony counts and recommended a 63-year sentence.
When he failed to return to the courtroom Tuesday, the judge issued a capias order for his arrest. Yorktown Police and the U.S. Marshal Service found him in Indiana, where Coates was arrested without incident.
Coates is being held without bond pending extradition to Halifax County.