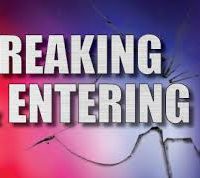 (Halifax County, Va.) – Halifax County investigators are hoping a $1,000 reward will lead to an arrest in a recent rash of church break-ins.
Halifax County Sheriff Fred Clark says three churches have been the target of thieves who are looking for cash and electronics.
The first break-in was reported Tuesday, Sept. 5, at Mt. Pisgah AME Church on Woodsdale Road near the Alton community. A window was broken out of a side door to gain entry, and the thieves also damaged the basement lock.
A second entry occurred at Harmony United Methodist Church in Alton on Saturday, Sept. 9. Burglars entered the church through a basement door and stole several sound systems and other items.
The most recent break-in was discovered Monday morning at Dan River Baptist Church in Halifax, where thieves gained entry by breaking out a window to the back door of the church. The Dan River Baptist Association office, located in a separate building nearby, was also entered.
Anyone with information is asked to contact the Halifax County Sheriff's Office.