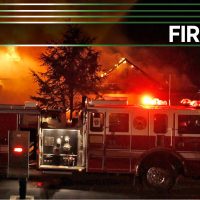 (Henry County, Va.) – The owners of a Collinsville business say they plan to rebuild after a weekend fire destroyed their business.
Fire raged through the Eye Site optometry store Sunday. The business was closed at the time and the flames were spotted by a passerby. The cause is still undetermined, but it is believed the fire started in the attic of the business.
The roof of the building caved in and damage was extensive. Firefighters managed to save some of the contents.
The owners said the building was insured and they plan to seek temporary quarters as they repair the damage.