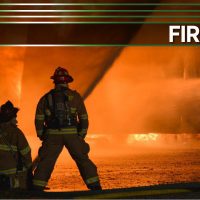 (Pittsylvania County, Va.) – Fire destroyed a home on the Vandola Road Monday afternoon.
Volunteers from six Pittsylvania County fire departments responded but were prevented from making an interior attack because of exploding ammunition inside the house.
Robert Ragans was awakened by the smell of smoke and managed to crawl out a window and rescue his three dogs. He was treated at SOVAH Health for smoke inhalation.
Firefighters were still dosing hot spots late in the day and had not been able to determine a cause.
The house and its contents were destroyed.