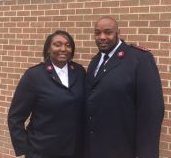 (Savannah, Ga.) — A Salvation Army team from Danville has returned home after serving hot meals to the victims of Hurricane Irma in Savannah, Georgia.
Captain Ray Jackson was the logistics chief for the local volunteers. He estimates that they prepared about 10,000 meals for those who lost power in the powerful storm.
Jackson said restaurants have since reopened and life is getting back to normal in Savannah. His team wrapped up mobile canteen operations Monday but continues to monitor the path of Hurricane Maria closely. Forecasters say it is too soon to tell whether the storm will threaten the U.S. mainland.
While they are no longer needed in Georgia, Jackson said the Salvation Army continues its work Florida and other states that were hardest hit by Hurricane Irma.
Jackson also responded to New Orleans in the aftermath of Hurricane Katrina in 2005.