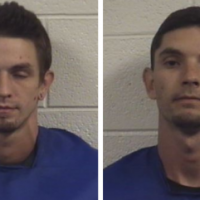 (Stoneville, N.C.) — Two men have been charged after the body of a missing North Carolina man was found this week.
The Rockingham County Sheriff's Office says the body of 58-year-old Teddy Ray Compton was found in a field Tuesday night. A Silver Alert had been issued after the Stoneville man was reported missing Friday night. He had last been seen Sept. 6.
Two men, 29-year-old Christopher Len Largen and 28-year-old Joseph Lee White, face first-degree murder charges. They are both jailed without bail and scheduled to appear in court Monday.