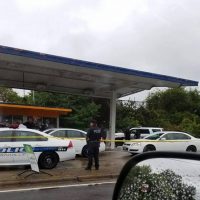 (Danville, Va.) – Danville Police were called to the Joy Food Store at 507 Riverside Drive Tuesday morning after a body was found inside the convenience market. According to police, no one else was inside the store on Riverside Drive around 10 a.m. They are investigating the case as a homicide.
Investigators aren't saying much at this point but confirm that a man was found dead inside the store. The circumstances surrounding his death were not available.
Pittsylvania County sent a K-9 unit and a bloodhound was brought to the scene. Police cordoned off the parking lot with yellow crime scene tape.