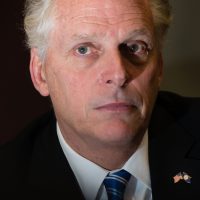 (Richmond, Va.) (AP) — Gov. Terry McAuliffe has declared a state of emergency in Virginia so officials can better prepare for Hurricane Irma and help other impacted states.
The governor's office said in a statement that the order allows the state to mobilize resources including the Virginia National Guard. It also allows people and equipment to be staged to assist in storm response and recovery efforts.
"The order I issued today is intended to both protect our commonwealth and to make sure we have every option at our disposal to help our neighboring states when Irma makes landfall," said McAuliffe.
The statement says that while the track of Hurricane Irma is still uncertain, it appears increasingly likely that Virginia will see "significant" impacts. It says the whole state should prepare for possible flooding, high winds and storm surge.